"Cats Stay Forever" Shirt (S)
m-043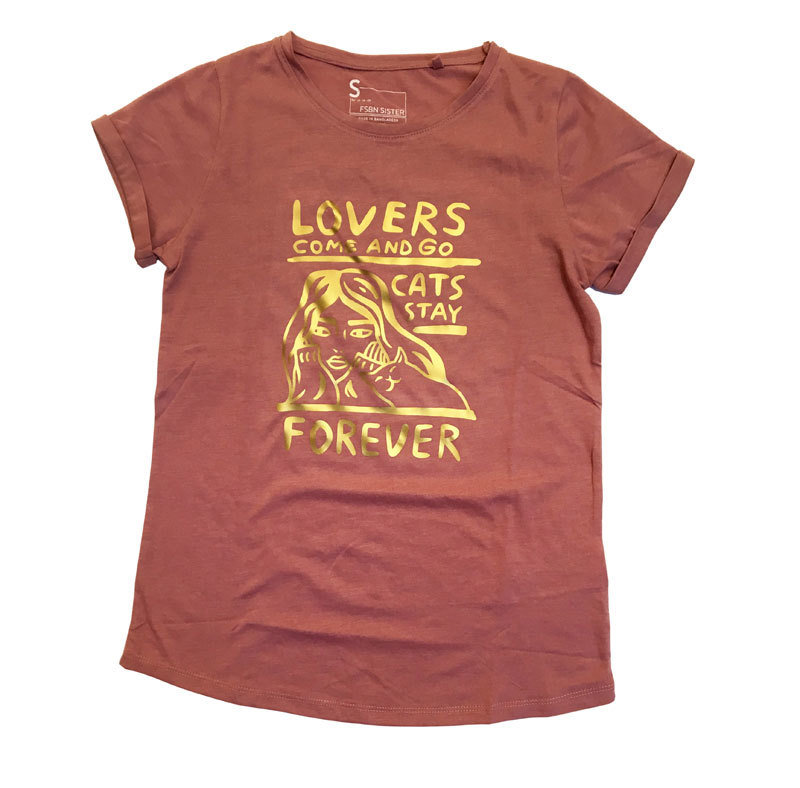 [tab name="English"]

"Cats Stay Forever" Shirt (S)
The print has a matte gold finish!
Unisex t-shirt. Size S.

Screenprint with NovaFlex-effect foil.
60% cotton, 40% polyester
All materials have an Öko Tex certificate class A whis means you could use it even for a baby.
All shirts in this series are made separately. The print can vary a bit in shape and size.
One of a kind piece!
Machine wash up to 40°C. Please wash and iron inside out!
No bleaching please!
[tab name="Deutsch"]
"Cats Stay Forever" Shirt (S)

Dieser Druck hat ein mattes Gold finish!
Die Goldschicht ist kaum tastbar und sehr dünn!
Unisex T-Shirt, Größe S.

Siebdruck + NovaFlex Effekt Folie.
60% Baumwolle, 40% Polyester
Alle Materialien haben ein Öko-Tex Zertifikat der Klasse A. Was bedeutet, dass dieses Kleidungsstück auch für Babies geeignet ist.
Alle T-Shirts aus dieser Serie wurden einzeln gedruckt. Der Druck kann sich in der Größe und Details leicht unterscheiden.
Einzelstück!
Maschinenwäsche bis 40°C. Bitte vor dem waschen und bügeln wenden!
Bitte nicht bleichen!
[tab name="По-русски"]
Футболка "Cats Stay Forever" (S)
Матовое золотое покрытие!
Слой золота очень тонкий и едва нащупывается!
Униcекс, Размер S.
Шелкография + эффектные пленки NovaFlex.

60% хлопок, 40% полиэстер.
У всех материалов использованных для изготовления этой футболки есть сертификат Öko-Tex класса А. Это означает, что эту вещь мог бы носить даже маленький ребенок.
Стирать в машине до 40°C. Стирать и гладить, вывернув на изнанку!

Не отбеливать!
[endtab]