Tori - DIY Articulated Paper Doll
00744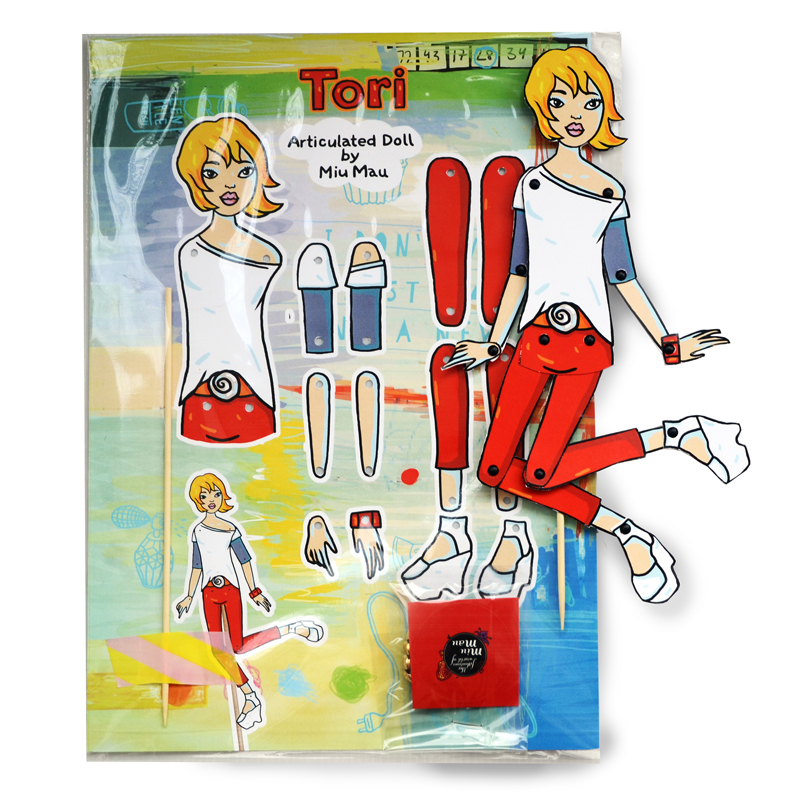 [tab name="English"]
This is a do-it-yourself kit for making an articulated paper doll.
The set includes:
- Doll printed on cardboard 280g/m2
- Stick for the back
- A stiker for attaching the stick
- All brads you need to put the doll togehter
And the doll has pre-perforated holes! You just need to cut it out and put it together!
[tab name="Deutsch"]
Tori - Hampelmann-Gelenkpuppe aus Papier zum selbermachen.
Das ist ein Set zum selbermachen einer "Hampalmann" Papierpuppe.
Das Set enthält:
- Die Puppe, gedruckt auf glänzendem Karton 280g/m2
- Stäbchen zum hinten ankleben
- Ein Sticker mit dem das Stäbchen angeklebt wird
- Alle Klammern die gebraucht werden um die Puppe zusammenzufügen.Die Puppe hat schon vorgebohrte Löcher an den richtigen Stellen. Man muss sie nur noch ausschneiden und mit den beigelegten Materialien zusammenfügen.
[tab name="По-русски"]
Тори - бумажная суставная кукла "сделай сам"
Это - набор для сборки самодельной бумажной суставной куклы.
Набор включает:
- Куклу, напечатанную на глянцевом картоне, 280g/м2
- Палочку, которая приклеивается на заднюю строну куклы
- Стикер, с помощью которого приклеивается палочка
- Все крепления, нужные для сборки куклы
На кукле уже просверлены дырки правильного диаметра на всех нужных местах. Ее остается только вырезать по контуру и собрать, с помощью приложенных материалов.
[endtab]